20 years ago, to meet the expectations of Podkarpacie residents, a Legal Advice Bureau was established within the MP Marek Kuchciński's Parliamentary Office. It was the first office of this kind created by Law and Justice in the whole country. As we can read on the marekkuchcinski.pl website: it serves everyone who has been affected by injustice, incompetence or arrogance of offices and institutions, everyone who needs guidance in exercising their rights. Regardless of nationality, political views or social status.
This assistance consists in providing free legal advice, preparing pleadings and administrative documents, and intervening in cases that require it.
- The Office is visited by people who cannot cope on their own with bureaucratic complexities and legal tricks. Our lawyers show them the way - says Marek Kuchciński. - During 20 years of activity the Bureau gave over 30 thousand pieces of advice. The Bureau has shared its knowledge and support with the residents of Przemysl and its surroundings, among others. Lucyna Podhalicz, Janusz Fudała, Andrzej Matusiewicz, Ryszard Góral, Bogusław Wojnarowicz, Rafał Scheller, Krzysztof Drabik, Barbara Zięzio, Marcin Zaborniak, Eugeniusz Strzałkowski, Wiesław Morawski, Stanisław Szarzyński, Witold Wiśniewski, Robert Majka, Jolanta Sawicka, Agnieszka Koziuto, Barbara Piórkowska, Bogusława Kondratko, Katarzyna Rokitowska, Barbara Hapka-Twardy, Małgorzata Błażko - most of them as volunteers. I would like to thank them all very much. Without them we would not have been able to do so much good for our residents. And if I have left anyone out, I apologize from the bottom of my heart and ask for forgiveness," adds the Marshal.
Most cases concern administrative law; general civil law; criminal and misdemeanor law; labor and social security law; and family law. In 2021, the most frequently requested assistance was in the matter of an appeal, application, pre-trial demand for payment or statement for alimony or divorce. Problems related to the procedure of obtaining or refusing to obtain guardianship benefits as well as benefits for the disabled, tenancy agreement, matters related to the housing community, eviction, deregistration, inheritance, pensions were also frequently reported.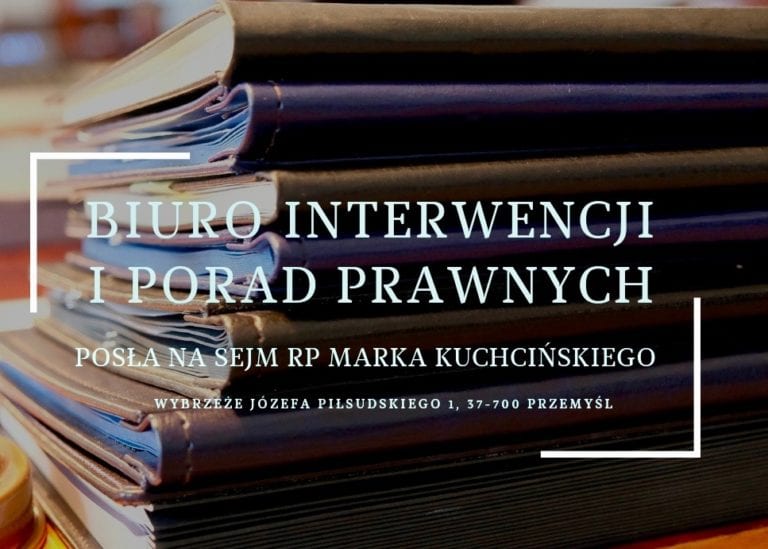 Persons interested in receiving free legal assistance in the office of the Speaker of the Sejm Marek Kuchciński may contact the office staff personally or by phone at 16 678 49 19.