During the Summer University of Leaders in Krasiczyn, organized by the Wacław Felczak Institute, the vision of the future of Europe was debated.
Young Poles and Hungarians declared their will to cooperate for the benefit of family, democracy and human dignity. Emphasizing the value of Visegrad identity and Christian roots, they stressed the need to reform the European Union, which should strongly emphasize the views of young people from Central Europe. Chairman of the Foreign Affairs Committee Marek Kuchciński said that he fully subscribes to the declaration. - It points out fundamental issues, what distinguishes us in Central Europe and what all of Europe, the entire European Union, should benefit from," he said.
ABOUT THE FUTURE OF EUROPE. DECLARATION BY POLISH AND HUNGARIAN YOUTH - PARTICIPANTS OF THE INSTITUTE'S SUMMER UNIVERSITY. WACŁAW FELCZAK INSTITUTE IN KRASICZYN
We, young Poles and Hungarians,
- realizing our responsibility to our community, our peoples, our region and our continent, recognizing the challenges of the coming decades,
- believing in the Christian roots of Europe, recognizing values such as family, democracy, human dignity, unrestricted and legally protected freedom of opinion and expression, and the importance of social dialogue,
We are convinced that a strong Europe and a deep reform of the European Union is needed, in which the views of young people from Central Europe should be strongly emphasized. Our national and Visegrad identity, traditions and culture constitute an independent, equal value, which also needs to be recognized in the European Union.
Therefore, we declare that we will work together, at the political and civic level, for a free, safe, strong and just Europe in which:
- Instead of ideological polarization and waging a culture war, our interests and values are recognized; our own problems are defined instead of substitute topics and imported ideologies,
- The level of basic knowledge about the region is high, which is also reflected in secondary education; opportunities to learn Central European languages will be expanded,
- funding for the Visegrad Group's youth and scholarship programs will be multiplied.
We call on the older generations, policy makers, opinion leaders and media representatives to work with us; to create a platform for discussion and provide a space for us to think together.
Castle in Krasiczyn, August 25, 2021.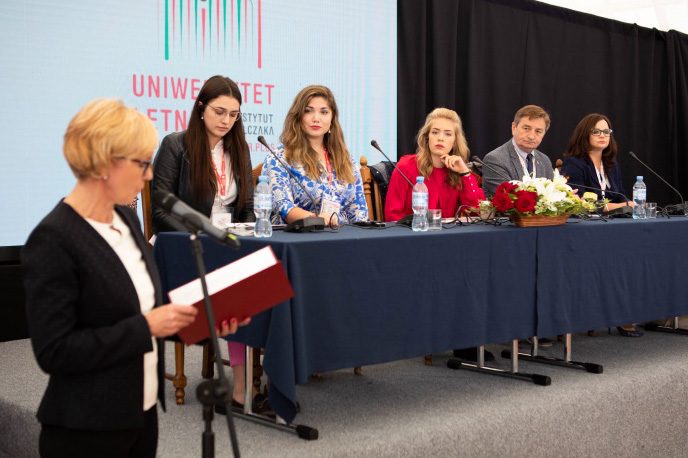 Photo. www.mymedia.pl