Text: Mandiner, Zoltán Veczán
The last 100 days will not pass without a trace in the history of Hungarian-Polish relations. Leading Polish politicians spoke with Balazs Orbán and Zsolt Németh in Budapest: the key word was understanding, but contrasts were also plentiful.
Deputy Speaker of the Sejm Ryszard Terlecki, Chairman of the Foreign Affairs Committee Marek Kuchcinski, and MEP Boguslaw Sonik spoke with Balazs Orbán, Director of the Office of the Prime Minister of Hungary, and Zsolt Németh, Chairman of the Foreign Affairs Committee at a cafe named after Roger Scruton on Veres Pálné Street.
The exchange of opinions, moderated by Maciej Szymanowski, director of the Wacław Felczak Institute for Polish-Hungarian Cooperation in Warsaw, abounded in beautiful words and subtle criticism.
Participants also paid tribute to Roger Scruton
As Balázs Orbán said, Scruton's widow personally told him that the philosopher's heart beat in Central Europe, even: he understood the specificity of the folk soul, history, culture and spirit here.
"Survival depends on nationalism in the good sense of the word, and those who consider the national interest a priority are successful," Orbán said, "We are successful. We will not agree on everything, but if there is respect and understanding for each other, nothing is lost, and Polish-Hungarian friendship is of great importance."
Zsolt Németh praised Scruton's underground social work in Central Europe before the regime change, mentioning that the Poles had compacted many things by 1980, which for us means 1956, for example.
The last 100 days will not pass without a trace in the history of Hungarian-Polish relations
This difficult period is a test of Hungarian-Polish friendship, but "maybe we have already reached the bottom and are starting to get out of there." He recalled President Katalin Novák's first trip to Warsaw and expressed gratitude to the Sejm marshals for the visit, which "helps us understand each other better."
The chairman of the Hungarian Foreign Affairs Committee said that it may seem surprising, but Hungarian and Polish goals are the same with regard to Ukraine: to open the EU doors to the country and give it candidate status, because the blood, the tens of thousands of victims, give Ukraine the right to do so. Conservative Europe, belongs to sovereign nations and does not accept interesting theories, the Brezhnev doctrine or the reconstruction of the Soviet Union, rejects the Yalta "agreement" and supports the Helsinki process, and with the Poles there is no alternative but a close, friendly alliance.
Let's not hurt ourselves more than the Russians.
Marek Kuchcinski, chairman of the parliamentary Foreign Affairs Committee, praised Scruton for the opportunity to debate and exchange views and said the common goal was to strengthen the Polish-Hungarian thousand-year cooperation and thus strengthen Central Europe. "All common-sense politicians can identify with this," he said.
Director Maciej Szymanowski mentioned the information war and manipulation to turn Poles and Hungarians against them, and Speaker Terlecki said they were surprised by both the full Russian attack and the successful resistance of the Ukrainians. He added that there was a strong fear of global conflict and whether weapons and tanks should be sent in. "Dramatic requests and demands" were issued from Kiev, on the grounds that the Russians would not stop, they would go further into Poland, so they ultimately decided to definitely help Ukraine,
This is an excellent opportunity to weaken Russia as much as possible
Ryszard Terlecki added that the Russians are doing what they are doing now, emboldened when Europe failed to take decisive action in Crimea and Donbass.
It is not war that threatens peace, it is Russia
said the deputy speaker of the Sejm. He mentioned that PiS is experiencing a serious propaganda attack from the opposition that they are Putin's allies, "because we have not broken ties with our Hungarian friends. Tomorrow's newspapers in Warsaw will say that we actually consulted with Putin, only through Hungarian mediation. For the audience's clarity, he added, "From this point of view, your opposition is much more cultured than ours." He mentioned that in Poland "unfortunately this is normal" and that the Hungarian-Polish friendship will survive this test, but will definitely be used against PiS.
Hungarian business
Boguslaw Sonik, MEP of the opposition Civic Platform, said in his pro-EU speech that our countries have fulfilled the dream of generations by feeling pressure from Brussels or NATO, because we can say so because we are part of the community. At the same time, according to him, the deteriorating relations are not due to the disinformation of the opposition, but to the fact that "Hungarians have not clearly explained their own position", and it is not enough that "Hungarian interest is in the first place" in winning Polish or European public opinion, and in the Budapest statements they felt it as a lack of empathy towards Ukrainians, as well as "whipping" comments towards the Ukrainian president.
Szymanowski recommended Balázs Orbán's book Once Upon a Time of Hungarian Strategic Thinking to the public's attention in order to understand the Hungarian interest, and the author himself explained that awareness of the national interest is an ongoing intellectual work that it is easier to gain sovereignty against a directly visible oppressor than it is for Hungary and Poland against the Nazis and Soviets-as when the goal is to maintain sovereignty (not so simple). He called it a tragedy that the war ended peaceful Eurasian coexistence:
There is an aggressor called Russia and a victim called Ukraine
But "fortunately the aggressor could not succeed". On the other hand, Central European cooperation is essential, otherwise it will be destroyed by major geopolitical storms. The Hungarian-Polish friendship thus has a strategic basis of interests in addition to an emotional basis. Hungarian strategic thinking dictates that the war must be condemned, aid must be provided to the refugees in Ukraine, and European unity is needed.
Zsolt Németh reminded in his answer that Hungary voted for all sanctions and this is a serious weapon, but the line must be drawn, and here is the energy embargo: the oil embargo and the gas issue will come, while "The Russians can sell, of course, but to someone else. The Hungarian Commission President added that such a serious international blockade could only hit Iran. In addition, he said that it was important to get to know each other directly, as anti-Polish and anti-Hungarian positions appeared in the Hungarian and Polish press as part of a "propaganda war."
In any case, it will not be easy for the Polish government now, but mutual understanding of positions is crucial, so he is grateful to Marek Kuchciński for the letters published On Mandiner. Zsolt Németh added that the Western world must show strength and unity, because it can no longer pose a threat.
Marek Kuchciński said that meetings like today's were crucial, where one could avoid sentences taken out of context and hypocritical reality. He stressed the need for strong Polish-Hungarian cooperation, which also builds Central Europe, "but only on the principle: free are equal to free, equal to equal," referring to the Polish noble republic and the period of Hungarian national assemblies.
"When our states existed in this way, they were so strong that they could not attack us with impunity from either the East or the West.
The chairman of the Polish Foreign Affairs Committee stressed that we also need to see what Hungarian and Polish policy towards the EU is: cooperation of sovereign nation states, although "those who lead the EU today want our paths to diverge," to could more easily realize the vision of a federal superstate.
Terlecki added that they themselves do not believe that the EU will change its negative stance towards Ukraine, which may also change with Moldova and Georgia. The most important thing is that Eastern and Central Europe agree, while the EU wants to "commit suicide" by greening energy or fantasizing about Hungary and excluding Poland.
Szymanowski concluded the event with the words: Central Europeans will either learn to work together, or they will again be passengers on a train with no control over where its stops are.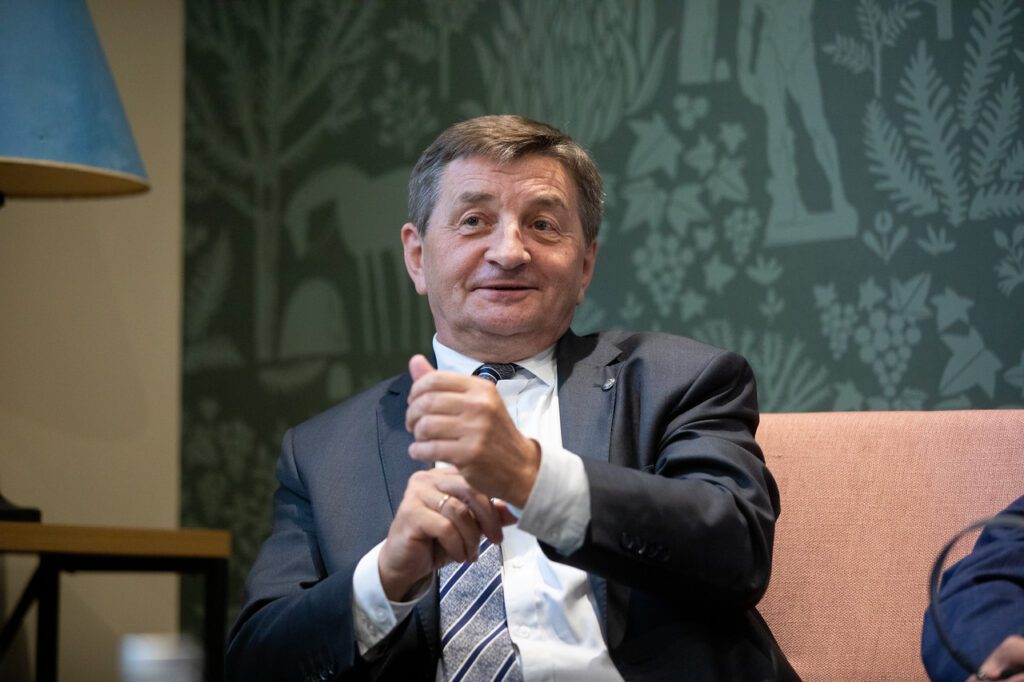 Portrait photography: Márton Ficsor, Dávid Mátrai, Árpád Földházi